In this post, we will discuss how to watch the Oscars 2023 without cable. Read our complete guide for a cable-free, on-demand, and hassle-free viewing experience from any device.
The 95th edition of this spectacular event promises to be full of interesting moments. If you're a movie enthusiast, now is the perfect time to reserve your spot to watch with fellow movie fans.
The Oscars 2023 will take place on March 12th, 2023, and the coverage will be provided by the ABC channel from start to finish. However, you don't even need to turn on your TV to watch the event. You can simply use the internet instead.
Ways to Watch Oscars 2023 without Cable via Live TV Streamers
There some Live TV streaming services including ABC TV. Here we present you the list of Live TV streaming based on Price, Number of Channels, DVR and free trial.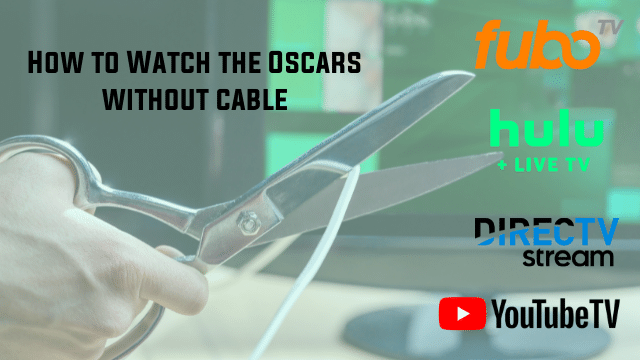 FuboTV
Fubo TV is one of the best options for cord-cutters looking to get rid of expensive cable television. It's offers several plans with different features and pricing options:
The FuboTV Pro plan costs $74.99 per month and includes over 130 channels, 1,000 hours of cloud-based DVR, and the ability to stream on up to 3 screens simultaneously while on the go and up to 10 screens at home.
The FuboTV Elite plan costs $84.99 per month and includes over 190 channels, Fubo Extra and News Plus channels, 1,000 hours of cloud-based DVR, and the ability to stream on up to 3 screens simultaneously while on the go and up to 10 screens at home.
The FuboTV Ultimate plan costs $94.99 per month and includes over 230 channels, Fubo Extra and News Plus channels, SHOWTIME, Sports Plus with NFL Redzone, 1,000 hours of cloud-based DVR, and the ability to stream on up to 3 screens simultaneously while on the go and up to 10 screens at home.
So If you want to watch ABC TV live online Fubo Pro plan is the best option for you. Fubo every package has the free trial option.
Hulu + Live TV
The live TV streaming service provided by Disney is called Hulu + Live TV, and the name is quite literal, as it is a service that streams live TV and comes bundled with Hulu.
With access to over 85 top channels, including sports and news, Hulu with Live TV offers a wide range of options for live and on-demand TV, including exclusive series, hit movies, current episodes, Hulu Originals, and more. You can also enjoy endless entertainment on Disney+ and live sports on ESPN+.
Hulu + Live TV provides a personalized viewing experience through custom TV lineups and profiles, and the Live Guide allows you to browse and flip through channels with ease. Additionally, you can record live TV with Unlimited DVR at no additional cost and stream on multiple devices, whether you're at home or on the go.
As one of the best live TV streaming services, Hulu with Live TV has gained popularity among entertainment fans due to its access to some of the biggest channels and the Hulu streaming service. There are no hidden fees, equipment rentals, or installation appointments, and cancellation can be easily done online or by phone.
Hulu offers a range of subscription plans. The standard plan costs $7.99 per month or $69.99 per year and provides access to the full on-demand catalog. For $14.99 per month, you can upgrade to the No Commercials plan, which offers the on-demand catalog with almost no advertisements.
Hulu with Live TV costs $69.99 per month, providing over five dozen channels along with the on-demand catalog. For $75.99 per month, you can get the same package without ads. Alternatively, you can sign up for the Disney Bundle, which includes Hulu, Disney Plus, and ESPN Plus, all for just $13.99 per month.
DIRECTV STREAM
If you're looking for a cable TV alternative, DirecTV Stream is a top contender in terms of price and the number of channels it offers. Its competitors include YouTube TV, Hulu With Live TV, and Fubo TV, but DirecTV Stream has an edge with its unlimited cloud DVR, except for YouTube TV and Hulu with Live TV.
The Entertainment plan is a good starting point, priced at $74.99 per month and providing 75 channels. If you want more options, the Choice plan costs $99.99 per month and offers 105 channels, including regional sports networks, NBA TV, MLB Network, and college sports networks.
For even more channels, consider the Ultimate package, priced at $109.99 per month and including 140 channels, such as the Golf Channel and NHL Network. If you're willing to pay a premium, the Premier plan costs $154.99 per month and bundles in HBO Max, Showtime, Starz, and Cinemax.
DirecTV Stream's Entertainment plan is comparable to other major cable alternatives, providing all the broadcast channels and top cable brands. Fubo and Hulu With Live TV offer similar pricing, while YouTube TV is slightly cheaper. Although Sling ($35 for the Orange or Blue plans) and Philo ($25) are less expensive, they don't provide as many channels.
While the higher tiers may seem pricey, they do offer more channels. The Premier plan is a complete cable replacement that includes four premium networks, similar to a cable bill.
The DirecTV Stream app is available on most major platforms, including Roku, Amazon, Apple, Samsung, Google TV™, and other Android TV™ OS devices. Plus, you can stream on unlimited devices within your home, making it a great option for families or those who like to multitask while watching TV.
YouTube TV
The increasing number of live TV streaming services like YouTube TV has made cord cutting easier than ever before. YouTube TV is one of the best cable TV alternatives, offering over 100 channels, including local broadcast networks (depending on your region), making it one of the most robust services available. Its price tag is $64.99, which is justified considering its breadth of content.
Recently, YouTube TV has improved its lineup by adding Viacom channels such as MTV and VH1. It is now an even more excellent choice for sports fans, with the addition of NFL Network for all subscribers and a Sports Plus package that includes NFL RedZone, Fox College Sports, GOLTV, MAVTV, Stadium, and TVG. However, the service has dropped MLB Network, which could be frustrating for baseball fans.
YouTube TV has a user-friendly, intuitive interface and is available on all major platforms, including iOS, Android, Xbox, Playstation 4, and select smart TVs. The YouTube TV iPhone app is about to surpass YouTube's app. Its unlimited DVR storage, with no caps on simultaneous recordings and the ability to keep recordings for nine months, sets it apart from its competitors. One of its competitors is catching up on that, though.
How to Watch Oscars 2023 without Cable via App?
To watch the Oscars 2023 on your smartphone or tablet, you can install the ABC app on your device and watch through it. The ABC app is compatible with both Android and iOS devices.
In addition, almost all media streaming services are compatible with most devices on the market. So if you don't have a cable connection, you can subscribe to any TV streaming service and install its app on your device. If you already have a cable connection that includes ABC TV, the ABC app will be the perfect solution for you to watch the Oscars.
Just make sure to update your operating system before proceeding.
How to Watch Oscars 2023 without Cable via ABC live Stream?
ABC provides content coverage of the Oscars 2023 not only on TV, but also on its official website. You can watch the Oscars 2023 directly through the website using your favorite browser, or by connecting the platform to your device.
The ABC channel offers live streaming services, which can be accessed using your TV cable credentials or other TV service credentials. As long as you have the official credentials, there shouldn't be any problem accessing the service.
Follow this Quick guide here to access ABC live stream service.
However, please note that both ABC's website live streaming service and its app are subject to geo-restrictions. This means that if you try to access the service outside of the US, you may experience a blackout. To work around this, you could use a VPN service to unblock the geo-blocking.